Meet TJ & Ben. Laser Hair Removal for Men of All Skin Colors
Yes, laser hair removal is for men too!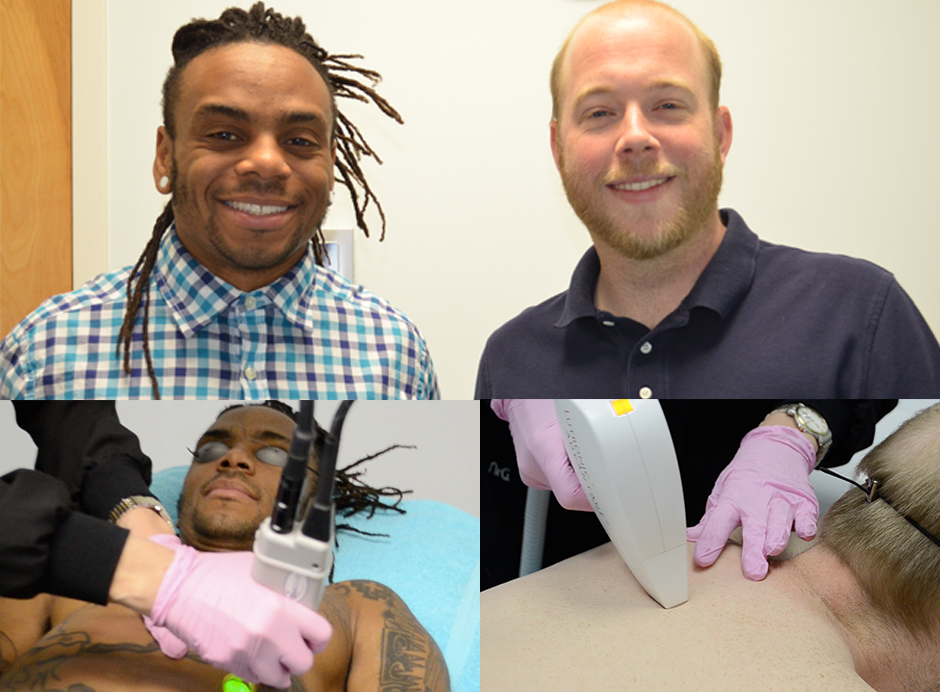 It's no secret that more and more men are receiving laser hair removal. But for those out there that are still unsure, or have questions about the laser hair removal for men process, this video should help demystify the process and see how easy it really is.
Watch as these two strapping young men of differing hair and skin colors attend an initial consultation and receive laser hair removal treatement from Liz Fisher at the Wilmington Laser Hair Removal and Skin Clinic.
Meet TJ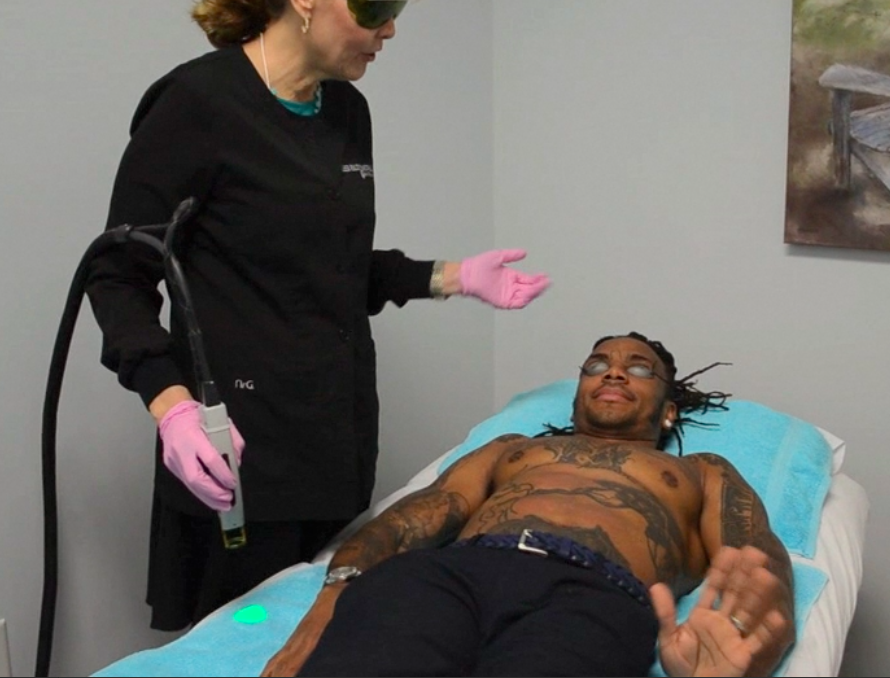 Age: 29
Skin Color: Medium/Dark
Ethnicity: African-American
Area(s) seeking treatment: Chest and stomach, possibly beard area on the face.
Hair Issues: TJ often gets ingrown hairs causing bumps after shaving. Has questions about receiving laser hair removal treatment because of his tattoos.
Course of treatment: Laser hair removal
At the Wilmington Laser Hair Removal and Skin Clinic, Liz Fisher and her team of licensed laser practitioners, have an advance laser that can treat dark skin, while other area clinics may not have the advanced technology to treat all skin colors.
Many men with dark skin also have very curly hair which makes them more prone to ingrown hairs causing bumps on the face that can be eliminated after laser hair removal treatments.
Since lasers can "break up" ink on the skin from tattoos, Liz recommends receiving laser hair removal in the area before getting the tattoo. If the tattoo is already there, the lasers can work around the existing tattoos to eliminate hair on skin that does not have any ink.
Meet Ben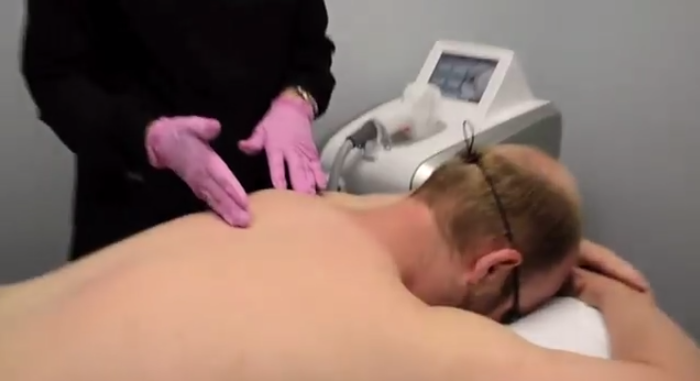 Age: 36
Skin Color: Light/Faire
Ethnicity: Caucasian
Area(s) seeking treatment: Back of neck and back.
Hair Issues: Has patches of hair on his back of all hair colors (blonde, gray, brown). Ben hates having to get the back of his neck shaved every few weeks and wants to have that hair growth slowed or permanently removed.
Course of Treatment: Combination of laser hair removal and electrolysis.
Since lasers only see dark hair, Liz Fisher recommends that Ben also undergo electrolysis in addition to laser hair removal. With electrolysis, you can eliminated blonde, gray and red hair permanently.
Everyone that comes into the Wilmington Laser Hair Removal and Skin Clinic is unique. That's why we offer a free consultation to assess the best plan of treatment for your individual needs. And because everyone is different, the amount of treatments needed in an area will differ from person to person. That's why we'll NEVER make you sign a contract.
Ready to get started on a hair free life! Call 910-791-7500 to schedule your FREE CONSULTATION or submit a request online and one of our office assistants will give you a call. 
Other related articles for laser hair removal for men.
5 Reasons Men Love Laser Hair Removal
8 Common Misconceptions About Laser Hair Removal