What You Should Know about Brazilian Laser Hair Removal
Just think about the word "Brazil" and scenes of bronzed, hairless bodies lazily sunning on hot, sandy beaches in barely-there bikinis may flood your mind--along with images of colorful drinks topped with cute little umbrellas.
Now think about "Brazilian laser hair removal" and what comes to mind?
Stay Clean, Mean and Sexy All Year Long
Brazilian laser hair removal is the hottest hair removal procedure today offering long-term elimination of unattractive pubic hairs that often prevent you from wearing bold, beautiful, sexy bikinis or slinky sleep wear. By targeting your bikini area where stray hairs tend to sprout uncontrollably, Brazilian laser hair removal penetrates into the roots of your pubic hairs to inihibit follicle growth functioning. Within four to eight sessions, you'll notice substantially slower hair growth, permanent hair reduction, and a bikini line to die for.
Brazilian laser hair removal can also be used to remove all your pubic hair as well as unwanted hair on your buttocks and thigh areas. Best of all laser hair removal in the bikini area leaves no ugly red bumps, does not promote painful ingrown hairs and will not drive you crazy with incessant itching, like shaving with razors or waxing tends to do.
We offer two kinds of bikini line sculpturing treatments
Bikini Line Laser Hair Removal--two fingers width on each side out of panty line all the way to your bottom. This also includes the choice of a strip, triangle or custom design.
Brazilian Laser Hair Removal--completely removes all hair, including the backside! No more spending money on temporary waxes or OTC products that do nothing but irritate your skin.
On average, about four to eight treatments are needed to give you the quintessential bikini line and be best part is that most of our clients can stop waxing or shaving after the very first treatment.
It's a Great, Affordable Way to be Ready to Wear Anything All Year Round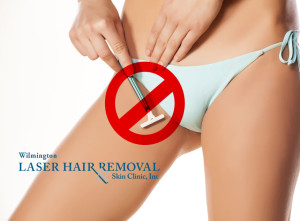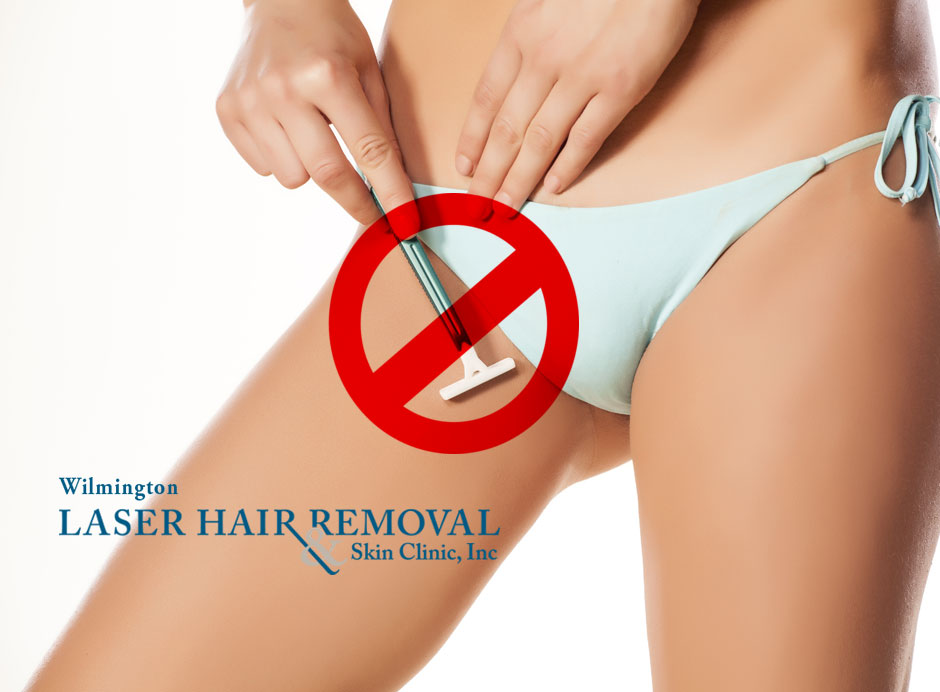 Compared to the cost of shaving (think about all those razors and cans of shaving cream you buy every year), depilatory creams and painful waxing, Brazilian laser hair removal uses significantly less of your money and time than traditional hair removal methods. No more ugly, itchy red bumps or worrying about hairs you may have missed while shaving!
Before Scheduling a Brazilian Laser Hair Removal Treatment
Make your appointment when you know you won't be having your period.
Shave just before your appointment so that  less hairs are standing up. When laser energy touches a hair, it may scorch it more than if the hair was closer to the follicle.
If you are sensitive to pain, you might consider taking two ibuprofen before a treatment. The feeling is compared to a 'snapping rubber band'. Also know that most patients feel less discomfort once their treatment begins and more hairs start disappearing,
Want to find out more about the Brazilian laser hair removal process? Why not schedule a free consultation or call our Wilmington Laser Hair and Skin Clinic today at 910-791-7500.