Why I'm Selling Nerium at the Laser Hair Removal and Skin Clinic
As a Licensed Laser Practitioner, Licensed Electrologist, Licensed Permanent Makeup Artist, Owner of the Laser Hair Removal and Skin Clinic for over 17 years with three Licensed Estheticians that work here, I've been involved in the beauty industry for a long time.
In all my years of selling, endorsing, and using age-defying, anti-wrinkle, cellulite reducing, etc. products, I have never believed in a brand as much as I do Nerium.
If you are my friend on Facebook, a client at the Clinic, or you've seen me in person lately, you've probably heard me talk about the latest and GREATEST skin care products we're offering- and using! These three incredible products are known as NeriumAD Day Cream, NeriumAD Night Cream, and NeriumFirm Body Contouring Cream.
What sparked my interest in NeriumAD?
I had several friends in the beauty industry and outside of the industry that kept telling me about the incredible results they (and their customers) were achieving from using NeriumAD. The kinds of results that were not attainable before with other products.
My friends would send me before and after photos of their crows feet, cellulite, and dark spots and I could see a very noticeable difference. They were people I knew and trusted and I could visibly see the difference in their appearance. When my friend Carol in New Orleans showed me a before and after of her in a bathing suit, I knew I had to give it a try.
In my research I read tons of great reviews, saw the clinical studies and saw that the product was patented.
I felt it was my responsibility as a professional in the beauty/skin care industry to try out the product for myself...and I'm so glad I did!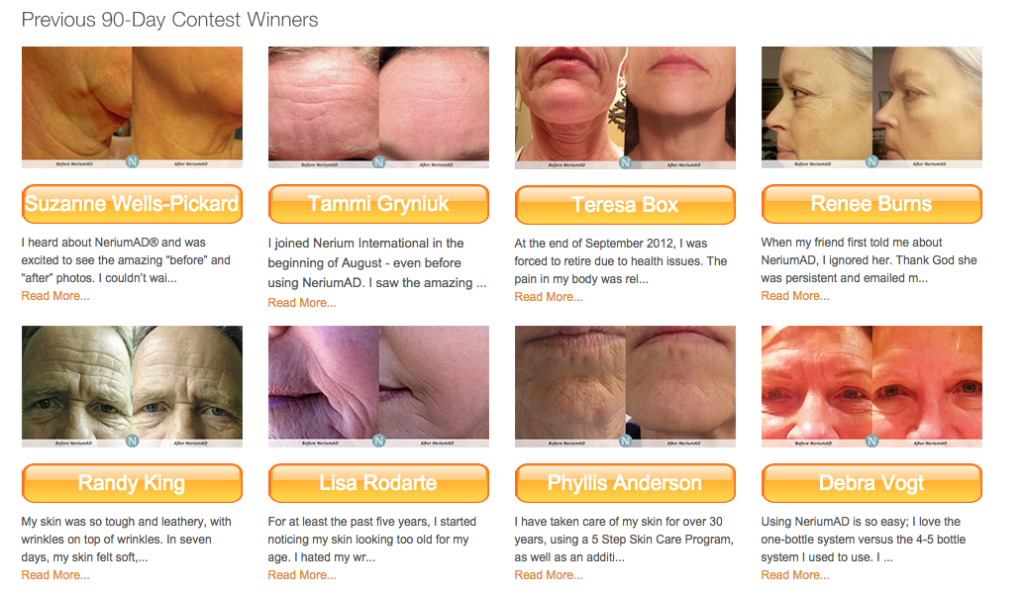 Why I love Nerium
I am a success story! I've been told as an adult that I have "great legs" but in the last few years I noticed a significant decline in their appearance. The skin was starting to drop and, while I wasn't gaining weight, my legs looked like they had cellulite. So I started using NeriumFrim in that problem area first to see what kind of results I'd see.
For me, after six weeks  using NeriumFirm Body Contouring Cream on the back of my legs, I could already see a difference!
By the end of three months, that's where I could see an incredible difference and I began getting compliments right away.
I felt confidant wearing shorts again and even wore them at my first NeriumAD party held at the Clinic. It was so fun being able to show my friends and clients first hand how great the product worked!
Next, I began using the face and neck cream. As of Sept. 20th, I've been using the product about 3 months and I can already begin seeing a more defined jawline and less wrinkles around my mouth.
This lead to tons of unexpected compliments, and a total boost in confidence. I can't wait to see what happens as I continue using Nerium.
I found myself talking about the product all the time.
Why did I become a Nerium brand partner?
When I started using the product myself, it was to see what all the hype was about and if all the claims were true. Once I knew it was for real, and unlike any other product I'd ever used, sold, or endorsed, I knew I needed to make it available to my clientele.
I don't ever feel like I'm "selling" Nerium. Honestly, the product has sold itself. Either from people seeing me and asking me what I'm doing differently, people seeing before and afters I've posted on social media, or when clients watch the video in the waiting room at the clinic.
Because I have seen first hand the results on myself, my friends, and my clients, I am a true believer in what Nerium can do for men and women looking to fight signs of aging and improve the appearance of their skin.
I have friends that received an and Ipad from Nerium within a few weeks and a Lexus within a few months. People I know! Not people I've heard about. These same people have been helping me learn about the business and how to best introduce it to men and women looking for results.
The product is direct shipped to customers so I didn't have to keep a ton in stock.
Residual income for the rest of my life!
Want to learn more about Nerium?
If you would like to learn more about becoming a NeriumAD customer or brand partner, you have a few options:
Set up a meeting with me at the Laser Hair Removal and Skin Clinic by calling 910-791-7500.
Send me a message through an online form here.
Follow my Nerium Brand Partner Facebook page to learn more about the product and results.
Sign up as a customer right away through my Brand Partner website (preferred customers SAVE!).
Sign up as a brand partner (start a business for just $500!) right away through my Brand Partner website.
See before and after photos real customers have had with NeriumAD in the video below: